Browsing articles in "Writing"
Wizard's Lair is a fictional level design done for a fictional game "Generic RPG Quest" for a Coursera assignment. Enjoyed it thoroughly although I may have overshot what needed to be done. As a fan of maps, I've never really had the chance to sit down and craft one based on a proper design of an evil wizard's headquarters under a mountain.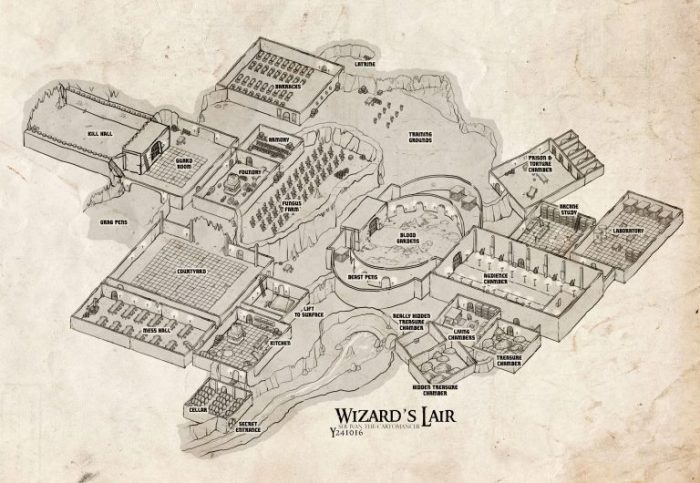 Wizard's Lair was made with a few important features;-
A Kill Hall where minions can pepper the attacking forces of goodness with arrows before they lay siege to the main entrance.
Grag Pens near the entrance for Mounted Grag warriors to surge out to pillage the country-side
A Fungus Farm for where else would an army source for a constant replenishable source of sustenance?
Foundry should be close to the Armory and Barracks for easy access in the event of an attack.
A Latrine, which is usually missing from dungeons for where do the forces of darkness do their business?
A Blood Garden which contains carnivorous plants fed by the blood of victims which are torn apart by the exotic beasts kept by the Wizard.
A Cellar with a trick barrel which leads to a secret entrance and a running underground stream.
A really hidden treasure chamber to hide magical weapons while leaving adventurers satisfied with the more mundane treasures as decoy.
Living Chambers, study area and laboratory all conveniently located in the same area so the Wizard can focus on what's important, namely inflicting pain and cooking up dark magicks.
A torture chamber that is close to the laboratory for easy access to the occasional guinea pig.
Some interesting reference websites and links to read when working on maps.
As a massive fan of Zombie fiction and also someone who is tasked with a writing assignment, I've decided to rewrite a given script and change it's setting while retaining its original flavour. Here is my rewritten "The Shooter".
This story is set in a post-apocalyptic version of a modern city where a viral plague has either killed or transformed a majority of the population into mindless flesh-eating creatures (zombies). It has been some time after the initial outbreak and the survivors have banded together and built small settlements with high-walls and basic infrastructure. These settlements are heavily defended and protected by teams of survivors who occasionally forage and scavenge for usable materials outside the walls. The story focuses on one such settlement, New Glenmary, that was built upon the ruins of a shopping-complex.
The story focuses on Jake, the former Warden of the settlement and leader of his team of Sentinels who serve as the protectors of the settlement and its standing army. After an incident in which Raiders weakened their defenses, a large number of zombies managed to break through and kill an entire section of the colony, Jake was distraught when he realized that not only had he failed in his duty but his family had been part of those killed in the attack. In the aftermath, with nothing left to live for, Jake decided to leave the colony in better hands and wander the ruins of Glenmary alone seeking oblivion.
Unknown to Jake, the Raiders were negotiating with Dead-Eye Jane, the leader of a Dagger team who made regular forays into the ruins in search for materials and salvage. She was ruthless and cunning and felt that decisions and authority should be given only to those that risked their lives in the ruins. Her dissatisfaction turned into hate over time and she put her plans into action. The incident with the breach was orchestrated by her in order to throw New Glenmary into disarray before disbanding the existing council that governed the settlement. With Jake out of the way, she easily swept aside all detractors and established herself as the leader of New Glenmary.
Against all odds, Jake returns after living a year in the ruins surviving alone and sees the suffering brought about by Jane's leadership. Those who spoke out against her were killed outright or sold into slavery to Raider parties that would occasionally visit. No one was safe and many fell prey to Jane's 'Daggers' who could take whatever they wanted and do anything they wished as long as it was not against the will of Dead-Eye Jane. Feeling guilt over abandoning the survivors to this tyrant, Jake swears on his family's graves to do everything in his power to make things right again.
Jake quietly integrates back into New Glenmary and reestablishes contact with his old comrades in the Sentinels who survived Jane's initial manhunt. Many survivors were on the brink of revolt but lacked the leadership to do so. Jake fanned these flames by inciting the populace and made quick raids on weapon caches, quietly arming the people of New Glenmary. His old second-in-command Mike, who lost an arm to the cruelty of the Daggers aided in the organization and training of the rebels.
Things came to head when a Dagger who was forcing himself upon a female survivor, found a shiv in his ribs instead. This forced the Daggers to sound an alarm to spread out and search the settlement. This prompted Jake and the rebels to spring into action and signaled the attack on Jane's Daggers. Though well-armed, the Daggers were outnumbered and the fury of the survivors were unleashed upon them in bloody close-combat. None of the Daggers survived that night and the screaming continued on late into the night as an oppressed population claimed retribution for any wrongs beset upon them.
Jake finally faced off with Jane in her self-styled palace in the upper levels of the mall. In the ensuing battle, Jane's other eye was shot out by Jake and with blood streaming down her face, she fell into a pit that held a few pet zombies that had their teeth filed off. Jane had used the pit to slowly silence any dissenters in the settlement by sentencing them to a slow and arduous death being slowly gnawed apart by the undead. Blinded and groping about, the ever-vengeful Jane never pleaded for mercy as Jake stumbled out of the palace with a wound she had inflicted upon him during the battle. Jake never turned back even as the screaming started.
The battle was over and the settlement was saved. The old ways were reestablished and New Glenmary was rebuilt and fortified. Eventually the virus burned out and New Glenmary became one of the larger settlements responsible for the rebuilding of civilization. Under Jake's leadership, connection was established with neighboring settlements and the Raiders were summarily hunted down and scattered.
An article I wrote for Areca Capital's January newsletter on the 26th of December 2013. The focus here is on Digital Games but I think this will be a good lead up to exploring table-top game commercialization as well.
Games are largely misunderstood and are seldom seen as a worthwhile industry to many but this isn't the case and here's why. My first statement would be that games are definitely making money. Whether for entertainment, education, training or simulation purposes, games are generating a lot of income. One of the first few games to capitalize on the rise of the mobile gaming industry has been the ever famous Angry Birds by Rovio Entertainment Ltd, a Finnish game developer that launched their game in December 2009 in Apple's App Store. Angry Birds has since enjoyed nearly 2 billion downloads and has spawned multiple franchises as well as its own merchandise line. At a dollar a download (typical of Apps in the App Store), you get the idea that Rovio's developers are really happy people indeed.

On the PC games front, we have online games like World of Warcraft (WoW) by the ever popular Blizzard Entertainment. WoW is a massively multiplayer online role-playing game that involves millions of players living in a persistent virtual world. Currently it is still the world's most-subscribed online game with over seven million subscribers followed only by Eve Online. At its height, WoW boasted over 13 million players worldwide and with a monthly subscription fee of $15, you can imagine how much money Blizzard makes in a year.

A personal favorite, Swedish Indie developers Mojang of Minecraft fame has sold over 33 million copies of their game since its launch in 2009. Their intellectual property has even been licensed to toy-making giants Lego in 2012 and also has its own line of merchandise which includes handbooks, annuals, poster books, magazines, and T-Shirts. Not bad for a small group of developers.

More recently closer to home, Puzzle & Dragons, a mobile puzzle game about collecting digital monsters has been reported to be earning $3.75 million a day! GungHo Online Entertainment, the Japanese studio responsible for Puzzle & Dragons posted a profit of $183 million in the early quarter of 2013. Other successes in the mobile arena would be Supercell's Clash of Clans that generates $2.4 million per day in the first half of 2013.

The most recent and astounding success story has been the launch of the arguably controversial game Grand Theft Auto V whose sales broke records by earning $800 million in worldwide revenue in the first 24 hours of its release and eventually surpassing $1 billion in sales in the next two days. The game itself took 5 years to develop and industry analysts estimate Take Two's (the company behind Rockstar Games which developed GTAV) investment in the production of the game at somewhere between $200 million to $265 million.

Hopefully I've established that games are great revenue generators but not many developers have successfully decoded what it takes to not only develop but also to market and sell their games. The industry success stories are built upon the numerous bodies of failed endeavors and investors would be wise to be aware of the risks involved. Traversing the business end of games is indeed a tricky and stormy journey at best.

Some games monetize through direct sales, through online distribution portals or retail physical copies. Valve's Steam and Desura are digital distribution services where gamers can purchase virtual copies of their games which can then be downloaded at their convenience. This is seen to be where the future of most games will be headed with the proliferation of broadband globally. Some games monetize through advertising revenue such as online web game portals like Kongregate or Armor Games where players go through advertisements before allowed access to a host of free-to-play games. The revenue from the advertising is then split between the service provider and the developer.

There are games like previously mentioned World of Warcraft which operate on a subscription basis where players pay a monthly fee to gain full access to the game and its services. While still going strong, this mode of monetization is fast losing popularity with the influx of free-to-play games. Free-to-play games are games which are offered freely without charge but earn revenue off its players purchasing in-game purchases such as cosmetic upgrades or powerups.

Games are also treated as a form of promotion, where companies commission the development of product-specific games to promote their brands or create awareness. More and more advertisers are seeing the interactivity that games provide as more engaging and provides a longer lasting impression for their brands.

These are just the tip of the iceberg and there are many other ways for digital games as a medium to generate income. Having said that, this article isn't meant to paint a rosy picture about the guarantees or returns that the game industry can provide but it is to make a simple statement that it is an industry worth looking into further as a career or an investment vehicle.

Malaysia is currently an attractive target for many international development studios and companies as we are strategically situated, proficient in English, and our infrastructure has improved vastly. The government has also recognized the potential of developing this sector in its many initiatives to attract foreign direct investments to our shores and also to promote the setting up of our own local development studios to develop homegrown intellectual property. Technology is ever evolving and so is the game development industry, it is this and many other factors that make the development of games a serious and lucrative industry to explore.
Today's interview went off pretty well as I met up with Mr. Ooi Leng Hang who is the Election Bureau Executive Director of the Democratic Action Party. As for why I am meeting a member of the opposition party, it is because of the board-game adaptation of Monopoly that they made to highlight their objectives and create awareness of some of the current ruling government's shortfalls. It was named Monopoli which wasn't too creative but they are very willing to draw similarities to that other board-game which it drew inspiration from.
As I did not have my recording device with me, I'll be paraphrasing;
What is your background?
A student of Fine Arts from the Kuala Lumpur Art Center, Mr. Ooi is the illustrator behind the DAP's hornbill mascot 'Ubah'. He currently handles a lot of their promotional material and media projects.
Are you a board-gamer?Not really, he plays or have played the usual (common) board-games such as Monopoly but has not gotten into the whole Euro-Boardgame trend.
Do you play Digital Games?
Not really as well, he plays games on his mobile device but not really on a PC. He quotes Candycrush as a game he has been playing for the past 6 months.
What is Monopoli's objective?
To teach others about politics especially what is happening locally. The game highlights plenty of scandals and each player is given C4 to use in the game. The game was also used a a means of fund collecting but that was not its primary objective. Using games also makes it more accessible to today's youth who might previously have not shown any interest in politics or the governance of their country.
How long did it take to make Monopoli?
About a year, from conceptualization. The actual production was faster but the idea remained an idea for quite some time until the general elections neared.
How did you do your testing?
They tested it out amongst their colleagues and friends. The final version of the game underwent rebalancing and does not resemble the earliest prototype.
What was the response?Very positive with them selling quite a number of units. Currently the game is no longer in production. (Number of units sold is withheld from this journal)
Price?
Ooi was unsure but other news articles priced the game at RM5. The game was not meant to generate income but as a more effective and fun brochure.
Future plans or possible commercialization?
There are no current plans for Monopoli but they've been approached by developers interested in converting the game to an application for the iOS. Interest in that project has died down somewhat but they are open to explore the possibility.
End of interview.
A student project needed an injection of detail for their story so utilizing sanskrit names and influence, here was a draft of the backdrop story for the puzzle game, Vestigia.
Revelations
Legends tell of the end days, when in their vanity, mankind loses all restraint and angers the gods with their endless wars of petty ambition. The fury of the Heavens was unleashed upon mankind and countless civilizations ceased to exist in mere moments, leaving the earth scorched, sickly and bereft of life.
The world was silenced.
The Divine Abhayankara, in his wisdom led those deemed worthy to a hidden world far beneath the surface to begin anew. Free from the evils of the old world and a wondrous new paradise was prepared for those worthy and the blessed.
Thus began the city of Bhumigata, the World beneath the World.
Bhumigata
Bhumigata is a massive metropolis located deep within a subterranean cavern which was built as a preservation fail-safe in event of a portended world-wide catastrophic event which took place in the year 2042. As nuclear fallout and bio-warfare wiped nations off the globe, an exodus of surface-dwellers made their way down to the massive complex known to those that live there as Mahatva Bhumigata or the Great Underworld.
Over the course of hundreds of years, much of the war is forgotten and the inhabitants of Bhumigata became segregated into distinct levels of citizenry. Each level of society lives in separate districts which named after elements that represent the district. Of the many districts of Bhumigata, the most notable ones are the Emerald District, the Golden District and the Iron Districts.
Bhumigata is built around a central elevator shaft known as the Hradaya that connects all the districts throughout the levels. Power, water and produce are manufactured in the lower levels and sent up the Hradaya to the higher levels making the Hradaya an integral part of Bhumigatan life. Like the human body, the Hradaya is referred to by some as the Spine of Bhumigata.
The Emerald District is elaborate, bright and beautiful and is also where the Divine Jade Palace is located. Only the direct descendants of the Divine Abhayankara may live in the Divine Jade Palace and they form the ruling elite of Bhumigata. The rest of the Emerald District is carefully structured and contains mansions belonging to the most influential and powerful families of Bhumigatan society. The only form of law-enforcement in Bhumigata are enforced by the Royal Guards. The Royal Guards defend Bhumigata from their fortress known as Kavaca and answer only to the King of Bhumigata. While Guard Stations are built in the lower districts, all Royal Guards are considered to belong to the Emerald Caste and members of the Guard are usually from the families of the elite of the Emerald District.
The Silver District is by far the largest district in Bhumigata. It is home to the scholars, thinkers, philosophers, scientists, engineers, mathematicians, musicians, craftsmen and artisans of Bhumigata. The largest building in the Silver District would be the University of Atma where the greatest minds of Bhumigata gather and attempt to recover the lost knowledge of the days before the exodus.
Much of technology involved in the creation of Bhumigata had been lost across the ages and many of Bhumigata's mechanical systems could not be maintained and had to be replaced with more rudimentary forms of technology. This is why Bhumigatans prize education above all else and children of the Silver District undergo mandatory education programs in the many schools and education centers across the district.
Much of Bhumigatan trade and commerce is also conducted in this district in its many marketplaces and commercial centers. Much of the produce and food sold in the markets of the Silver District come from the lower levels of Bhumigata, namely the Iron District.
Life in the Iron District is difficult and majority of those living in the Iron Districts work and toil endlessly in the numerous processing plants, eco-domes, factories and power generators in this district.
The Iron District is the industrial district, where large sprawling factories manufacture all of Bhumigata's necessities. Mining operations supply the factories with the required raw materials which are in turn processed into mechanical components, clothes, and building materials. Huge water turbines convert underground streams into sources of electricity and Power-plants continuously burn fossil fuels in order to supply Bhumigata with its much needed power supply.
Deep Pumping stations supply the other districts of Bhumigata with its source of water by means of huge pipes that travel up along the Hradaya. The pumps never stop to ensure that the privileged living above in the upper levels never do without.
Artificially lighted Eco-Domes are used to grow various types of subterranean crops which is then processed into food for the people of Bhumigata. Meat is a luxury but certain species of livestock have been genetically engineered to be able to live underground. The primary type of food  cultivated in the Eco-Domes are a species of highly dense fungi. Certain types of evolved vegetation have also adapted to growing in artificially lighted environments.
The People & Society
The people of Bhumigata are of Pan-Asian origin and retain much of the typical features associated with the race. Years of living below ground have altered them somewhat. The people of Bhumigata (or referred to as Bhumigatan) are very pale due to the lack of sunlight and required nutrition. Those living in the lower levels have evolved slightly to adapt to their surroundings. Those living in the Iron Districts tend to be shorter and hardier than their cousins above.
Bhumigatan society follows a very strict caste system in which the Royal Family, those of direct descent of the original King Abhayankara rule over the entirety of Bhumigata. The elite families of Bhumigata come from those that have amassed sufficient wealth and have been accepted into the inner circles which form Bhumigata's Elite caste. Bhumigata's Royal Guards also come from this caste and is regarded higher than menial workers living in the lower levels.